How to Write a Job Description to Attract Top Talent: 6 Steps
Check out our step-by-step guide to writing an attractive job description: one that will help you attract the best candidates looking for a job in the North of the Netherlands!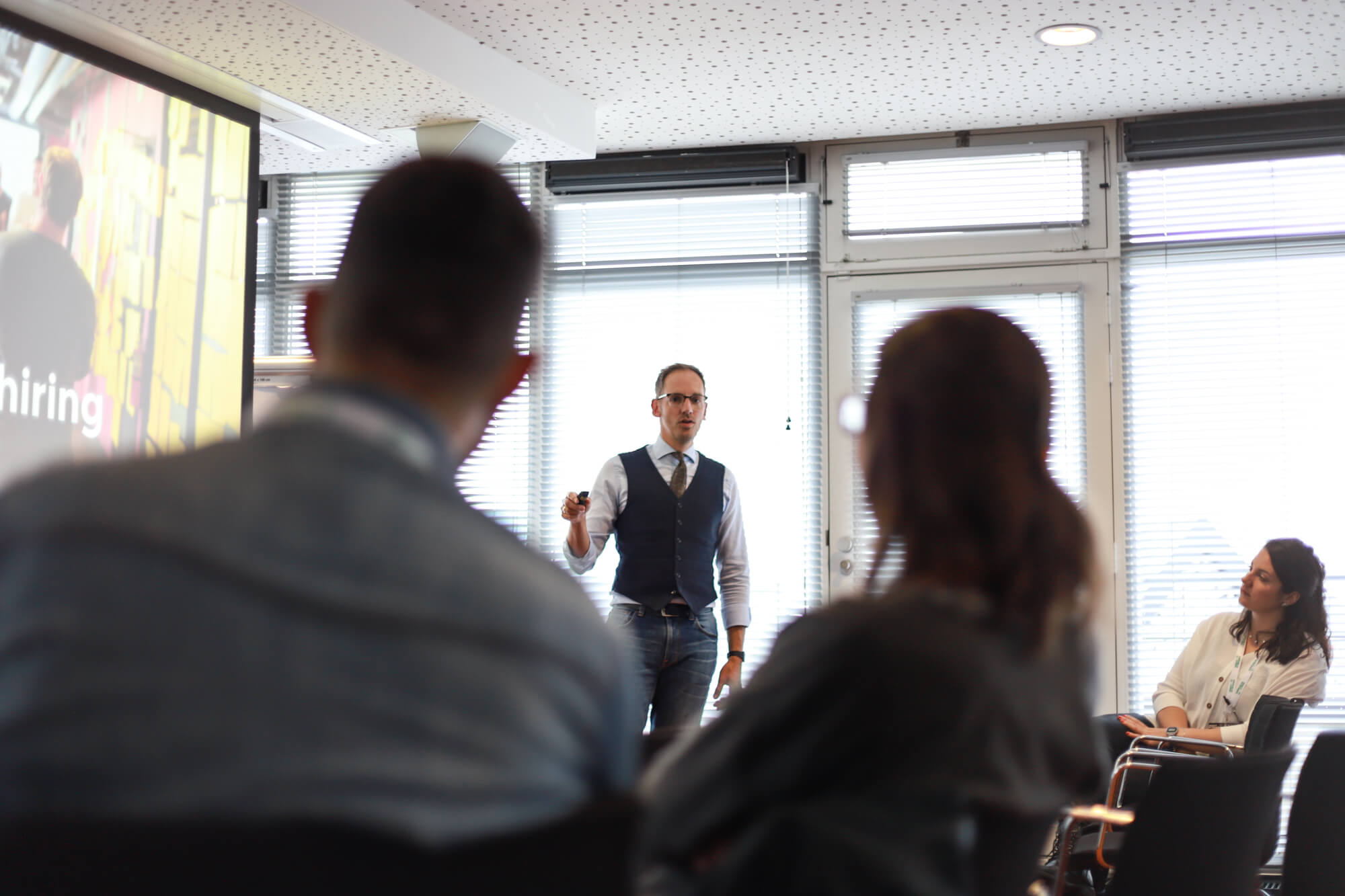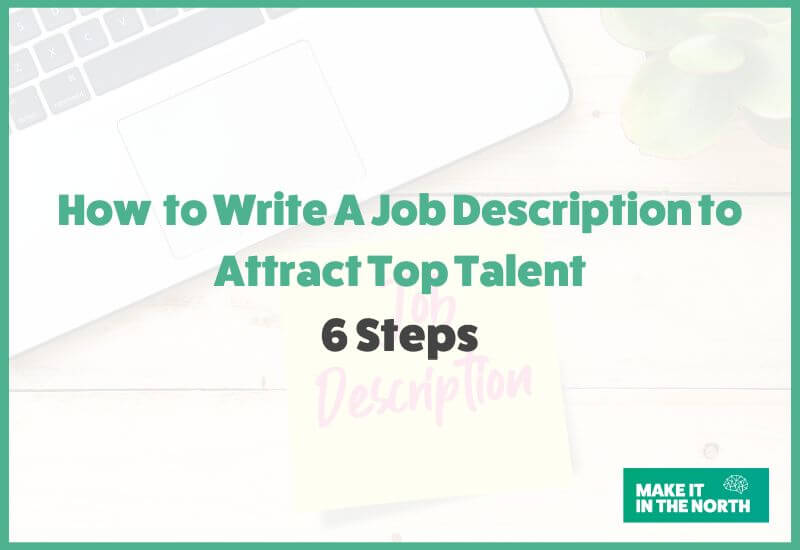 Looking to hire new international talent in the near future? You've come to the right place! In this article, we'll explain how to write an attractive and effective job description.
Why is writing a solid job description important, you might wonder? Here are the main reasons why you should put effort into this text that's likely to shape a candidate's first impression of your company:
Attracting the right candidates: A well-written job description will attract the right candidates who have the necessary skills and experience for the position. By clearly outlining the job requirements and responsibilities, you can increase your chances of attracting candidates who are a good fit for the role.
Setting expectations: A job description sets the expectations for what the role entails, what is expected of the candidate, and what the candidate can expect from the company. This can help to avoid any misunderstandings later on.
Screening candidates: A good job description can help you screen candidates more effectively. By outlining the key skills and qualifications required for the role, you can quickly eliminate any candidates who do not meet these requirements.
Not sure how to go about writing a job description? Let's dive into this step-by-step guide together. Have a good read!
How to write a job description: 6 key steps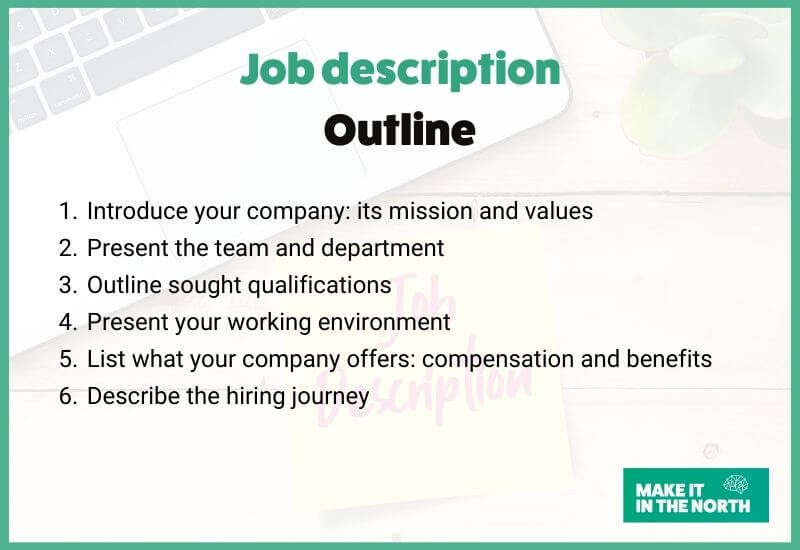 .
1. Introduce your company: its mission and values
The first step to writing an attractive job description is to present your company. Nowadays, many job seekers like to apply to companies whose values and mission are aligned with their own.
This especially applies to younger talent looking for a meaningful job, where they can contribute their skills to improving people's lives, the state of the environment, or the innovation landscape.
Even if your company has different goals, other job seekers are still looking for a specific kind of company culture, where for example, employee growth and development are part of the company's core values.
Here is a list of elements you want to include in your company presentation:
What are your company's mission and vision?
Which problems do you solve and how?
Where are you based (in the North of the Netherlands, throughout Europe, worldwide)?
What does your current team look like?
Here is an example of a great company presentation from BlaBlaCar.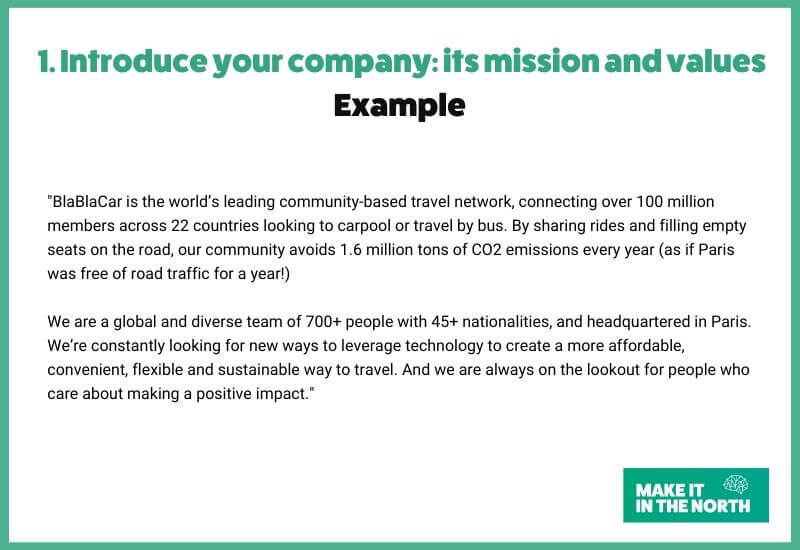 2. Present the team and department
After presenting your company, it is important to provide clear and concise descriptions of the team or department the applicants would be joining. Job seekers want to know who they will be collaborating with and towards which objectives.
The following questions should be answered:
Which team would the applicants be joining?
How many people form this department?
Who would applicants report to?
What is the department's strategy?
Which tools will be used as a part of this strategy?
How can the applicant contribute to this strategy?
In which aspects of this strategy would they get involved?
Here is an example of a great department presentation from BlaBlaCar, for a digital marketing position.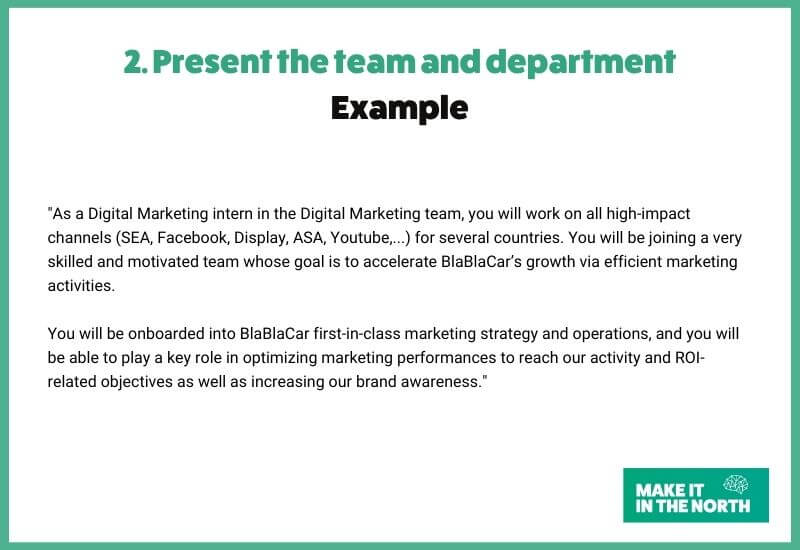 3. Outline the sought qualifications
After pitching your company to applicants, it's time to outline the type of profile you are looking for. This is an important part of the job description: not painting a clear picture of the candidates you are seeking may lead you to receive undesirable applications or miss out on great talent.
We recommend that you write this section using short bullet points and a "you" language. This is a way to already start creating a connection with candidates.
Here is a checklist of elements you should include in the qualifications section. Pretend you are painting a picture of the perfect candidate by listing the desired:
Level of passion about the topic at hand (marketing world, plant science, baking, cooking, engineering)
Soft and hard skills
Languages required
Values
Level of education
Level of experience (in number of years)
Familiarity with tools to be used in the role
Here is an example of a great way to list qualifications.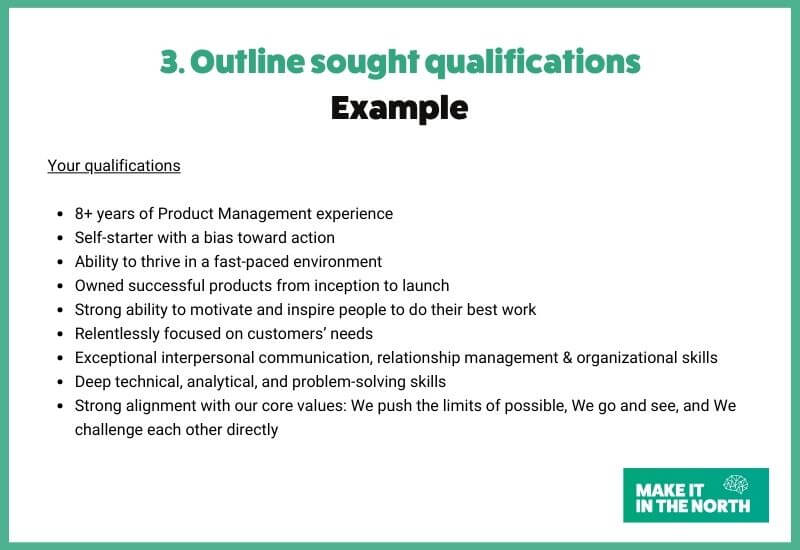 4. Present the environment your company offers
After you've explained what the ideal candidate looks like, it's time for you to make your case about why you're the ideal employer. Why should candidates consider joining your company? Do you offer a comfortable working environment? Competitive salaries? Attractive benefits?
In the job market, standards have definitely shifted: companies need to sell themselves more than they used to in order to attract the right talent. Put as much effort into this section as the previous ones and really try to convince candidates that your office is a great place to work and grow.
Try to answer the following questions:
How international is your company? Is English the language used on a daily basis or are employees expected to be fluent in Dutch?
What kind of workspace do you offer: flex-office or assigned space?
Which learning opportunities do you have to offer? Do you have a yearly training budget for employees?
Does your company host social events for employees?
Is working from home possible?
How many days a week do employees typically work?
5. List compensation and benefits
After you present what your company offers to all its employees, time for you to outline the compensation and benefits package associated with this role. We advise you to be transparent in this section, especially regarding the salary range. 
Indeed, a recent survey of LinkedIn users showed that including a salary range in your job description clearly influences an applicant's decision to apply.
This section is also a great place to showcase the benefits you offer your employees. Don't underestimate these benefits, as they may weigh into candidates' decisions to apply. Include them!
Here is a checklist of elements to include in your compensation and benefits section:
Salary range
Benefits (health insurance, meal plans, training budget)
Transportation compensation
Remote working policy
Below is an example of a presentation of benefits by e-scooter sharing company Felyx. Even though the salary range is not specified, the perks and benefits associated with the role are clear and attractive!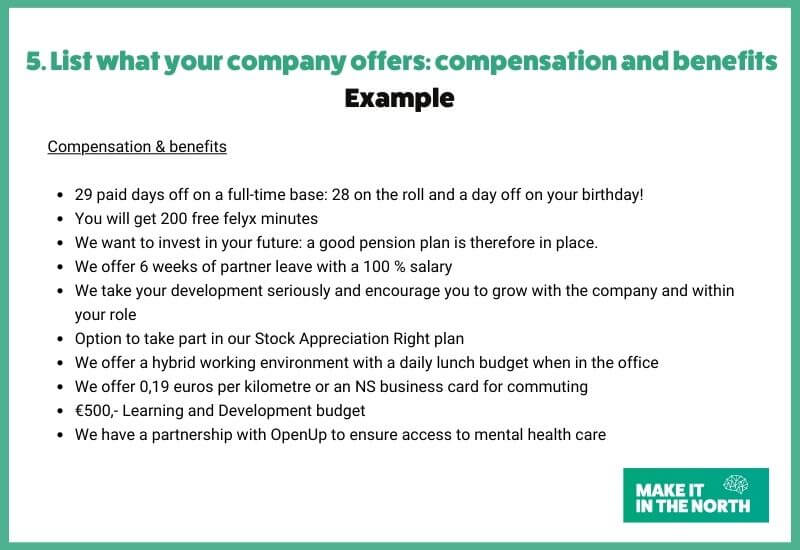 6. Describe the hiring journey
As you can imagine, job seekers are busy and like to know what to expect. Outlining your hiring journey is a great bonus section which most job seekers will appreciate. This will help them understand how much time they should expect to spend during the hiring process and who they will be talking to.
If you have a lengthy hiring process, this will also help you filter out individuals who don't think it's worth going through it! You can keep this section brief: list the interview milestones, how long each will last and who the candidates can expect to meet.
Here is how you could do it.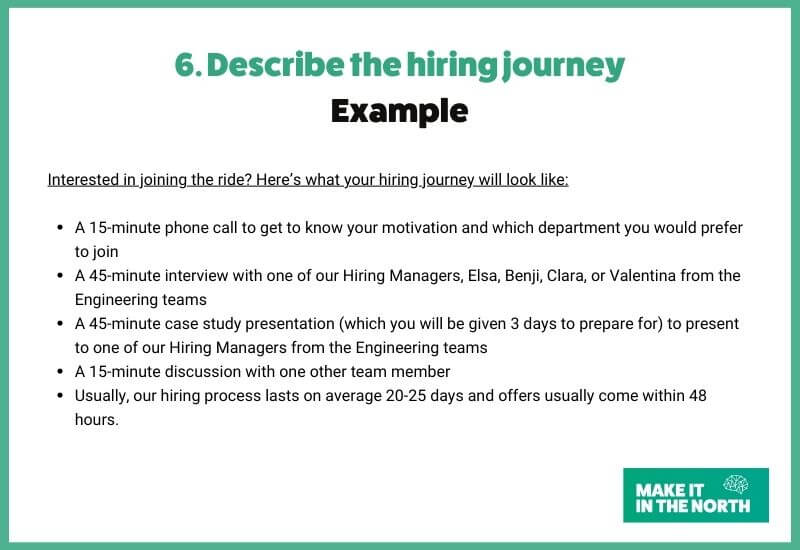 We hope this guide gave you a good idea of how to write an attractive job description.
A key takeaway is: in this day and age, you may have to convince job applicants to work for you as much as they need to convince you to hire them.
Writing a transparent and content-rich job description without relying on meaningless buzzwords is key to attracting top talent and filtering out profiles in which you're not interested. Give your job descriptions the time they deserve!